Into the Woods
A fantastic day for Year 4 when we all went Into the Woods!
Queen's 70th Platinum Jubilee 2022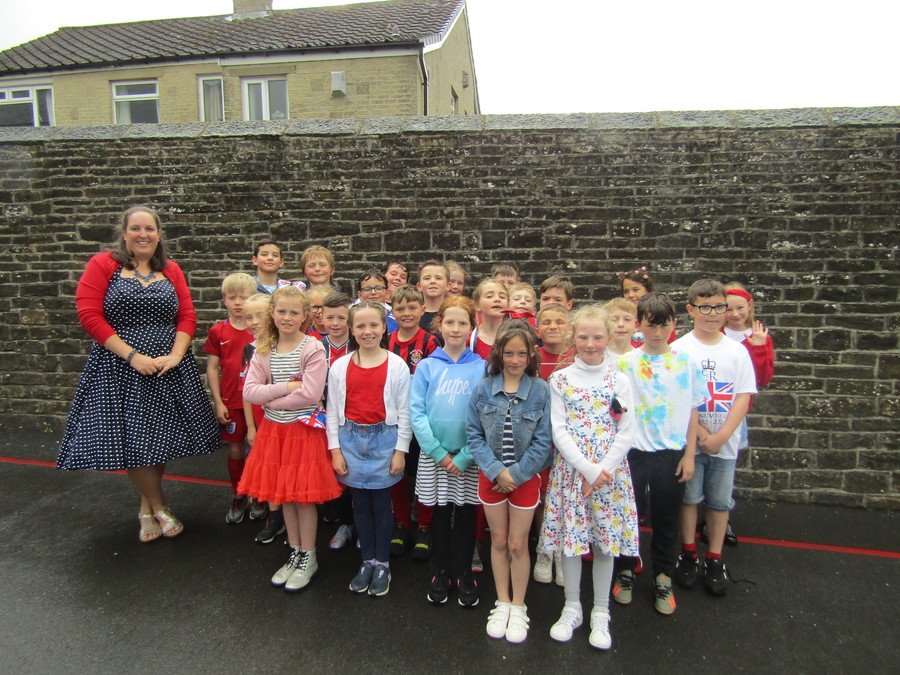 Year 4 have loved visiting the 70s - learning all about music, fashion, toys, people and you can't do the 70s without a bit of Tie Dye!
The children have created their own tie dye t-shirts and they look amazing!
Year 4 have had a great morning - hands on learning for this term's topic - Stone Age.
The children worked in teams to build their own Stonehenge out of biscuits and they then made salt dough to create Stone Age jewellery.

Well done Year 4!
Year 4 have taken their learning outside in the sunshine this morning.
We are working on our times tables and representing numbers using base ten and roman numerals.
Ancient Greek Experience Day
This Wednesday, Year 4 finally got their Ancient Greece experience day. We began by learning about the Athenian army tactics, having a go at for ourselves. Next, we tried becoming members of the Athenian Senate, trying to make decisions that would impact upon the whole state and whether we could win the war against Sparta. In the afternoon, we tried some simple but catchy Greek board games - great for strategy and planning. Ending the afternoon with a bit of code breaking with Greek writing using ink and reed pens. What a fantastic day, making learning memorable!
We have thoroughly enjoyed our morning of Art. This was our first attempt at a single collaborative collage piece based on a traditional English winter scene.
We used our knowledge of colour, shade and tone to build the background. Using different materials to add texture and depth and interest to the piece.
Christmas 2021
Year 4 have created some fantastic baubles for our school tree and the messages on them are beautiful!
WELL DONE PEARL....our first person to complete 10 reading challenges and only 3 weeks into the Year. Mrs Tillotson will have to come up with more ideas at this rate!
Year 4 are really beginning to get into their home reading challenge. Keep sending in the pictures. We love reading in Year 4.
A great start to the new term Year 4 - fantastic maths and reading!
Exciting Science - bringing the human digestive system to life!
Well done Year 4!
We're getting into the football spirit in Year 4. Let's hope England do well! We each have a team to support and we have been using our geographical skills to locate the countries and host cities.
We had an exciting zoom this morning with the author Tom Palmer, we're really looking at reading his new live book, that's released 3 times a week throughout the competition.
Yesterday, Year 4 had freedom of choice to present their learning about the Stone age settlement of Skara Brae. They made models, sketched or made posters and leaflets.
We've been taking our topic learning outside this week. Today we were using flints and steels in order to light our own fires. It was more difficult than it looked. We also tried knapping soap in order to try and make replica Stone Age weapons. Next... building our own Stone Age shelters!
Request for gardening tools, equipment and seeds
Year 4 have been trying to encourage bees by weeding and planting bee friendly seeds in two of our garden beds. We are short of gardening tools and are wondering if anyone has any old trowels or other hand garden tools or seeds that no longer use and would like to donate to school to enable more children to be able to help with the gardening. We will put a tub outside the front of school this week. Thank you so much for any donations.
A perfect day for some outside learning - we've learnt all about embers and fire and why this was so important to Stone Age people. We also collected new vocabulary to use in our writing.
Year 4 have had a fabulous day gearing up for our new Prehistoric topic - Stone Age to Iron Age
Well done Year 4 - you've virtually travelled around Southern Ireland as part of the Conqueror Challenge
Year 4 have had great fun getting ready for Christmas. See you all next year!
T'was the Night Before Christmas performed by Year 4 - Enjoy !
It's beginning to look like Christmas in Year 4. Eddie has visited to help us. So far he's joined in with Maths and French... we wonder what he will do next week?
In Design Technology we are designing bridges to cross the River Amazon. Today we investigated which shapes when building a structure would be the strongest using spaghetti and marshmallows. We all had a fantastic afternoon. We now have lots of improved ideas for bridge building next week.
Year 4 have been working hard to write persuasive speeches. They persuaded you enough that as a class we could adopt an orangutan. Her name is Timtom and she lives in Borneo.
We really enjoyed October's Halloween themed birthday party...wonder what November's will bring?
Year 4 visits and activities information
Please encourage your child to practice their times tables using the times table rock stars app, the competition is hotting up! Will anyone be able to beat Mrs Tillotson's score?