Welcome to the Reception Class page where you can keep up to date with all the super learning that is going on in our classroom.
In Reception, the class teacher is Mrs Harker.
Autumn 2 - Light and Dark
Throughout Autumn 2, Reception Class will be thinking about light and dark. Where does light come from? What happens when it gets dark?
We will be learning about nocturnal animals, in particular owls. We will begin our learning by exploring Owl Babies and welcoming some very special feathery visitors.
Children in Reception will be introduced to the Hindu Festival of Lights, Diwali. They will also take part in the school's Nativity play as well as other Christmas celebrations.
Diwali
Reception children have been learning about how the festival of Diwali is celebrated by people of the Hindu faith. They made Diwa lamps and special bracelets to bring good luck. We have explored the story of Rama and Sita to discover why Diwali is called the Festival of Light.
Owl Visit
Today we had a visit from some owls! The children in Reception class were able to learn lots of new facts about owls and watch them fly in the school hall. We had a fantastic time.
Autumn 1 - The Gingerbread Man
A Gingerbread Mystery - SOLVED!
Reception class have been wondering why the Gingerbread Man was so worried about going in the river!?
We investigated to find out what happens to biscuits when they get wet and sound out they go very soggy and eventually start to dissolve!
Resources for Home Learning
Teddy Bear's Picnic
We've had a wonderful time this afternoon at the Teddy Bears Picnic. It was lovely to meet all our Reception families and everyone enjoyed the Teddy Bear fun!
Fairytale Ball
Reception have had a great time at their Fairytale Ball here at Lees - plenty of fun, games and dancing, as well as some lovely treats to enjoy!
As Mrs Startin is about to retire from Lees Primary School, she wanted to leave the children with a wonderful and memorable experience. They have all enjoyed time on the inflatable obstacle course which has been lots of fun! They've also enjoyed a cooling ice-pop which has been welcomed in the heat.
Mrs Startin and FoLees have shared the cost, so we would like to give them a very big thank you!
Queen's 70th Platinum Jubilee 2022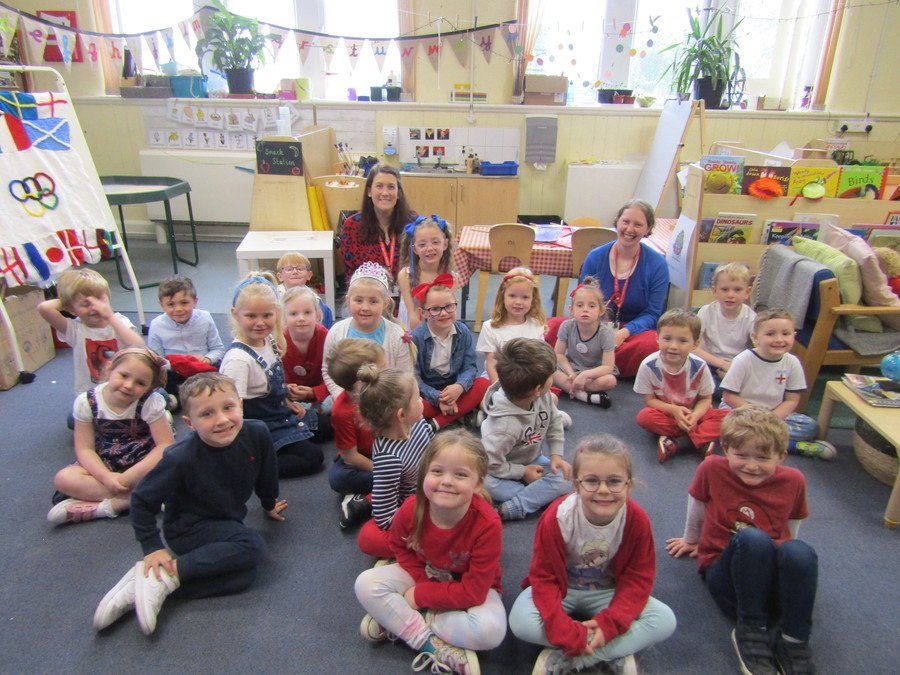 Reception children have spent the afternoon playing outside with their buddies in Year 6.
They've all had a lot of fun!
As part of their decade, Reception have been holding their own 2012 Olympics. The opening ceremony was yesterday and was full of dance and movement. The flags have been paraded and the games are now underway.
Lees Olympics 2012 - you are in for a real treat!
It's been very busy in Reception recently. With the arrival of an egg, the children have been thinking how to look after it and what might be inside!
They've also had great fun working together outside and made the most of the lovely weather ☀️
The winner of the Reception Reading at Home Challenge for last half term is Maggie, so a very big well done from the Reception Team and everyone at Lees! The children are encouraged to read as much as they can at home so it's always fantastic to see children receiving this prize.
Well done to Maggie - enjoy your prize!
We are excited to announce the winner of the Reception Reading at Home Challenge for the first half term of the year. The children are encouraged to read as much as they can at home.
Well done to Jessica - enjoy your prize!
The Wonders of Winter
As part of the whole school art project Reception and Nursery worked together - experimenting with a variety of materials and thinking about colour, design, texture and form.
We enjoyed the Art Day, loved getting our hands messy and are very proud of the work we have created!
Reception had a wonderful morning yesterday when they had 4 owls come to visit. As part of their topic learning all about nocturnal animals, they were able to hold one of the owls and felt the owls swoop above them. Thank you to SMJ Falconry of Oxenhope for bringing the owls to Lees and helping the children to learn lots of information.

Reception and Nursery enjoyed their visit from our local PSCO who came to talk all about Road Safety. They even learnt a new song - Twinkle Twinkle Traffic Lights!
Reception children have enjoyed their first lunch here at Lees with lots of help from their Year 6 Buddy.