Welcome to Reception's Class page where you can keep up to date with all the super learning that is going on in our classroom.
In Reception, the class teacher is Mrs Harker.
Queen's 70th Platinum Jubilee 2022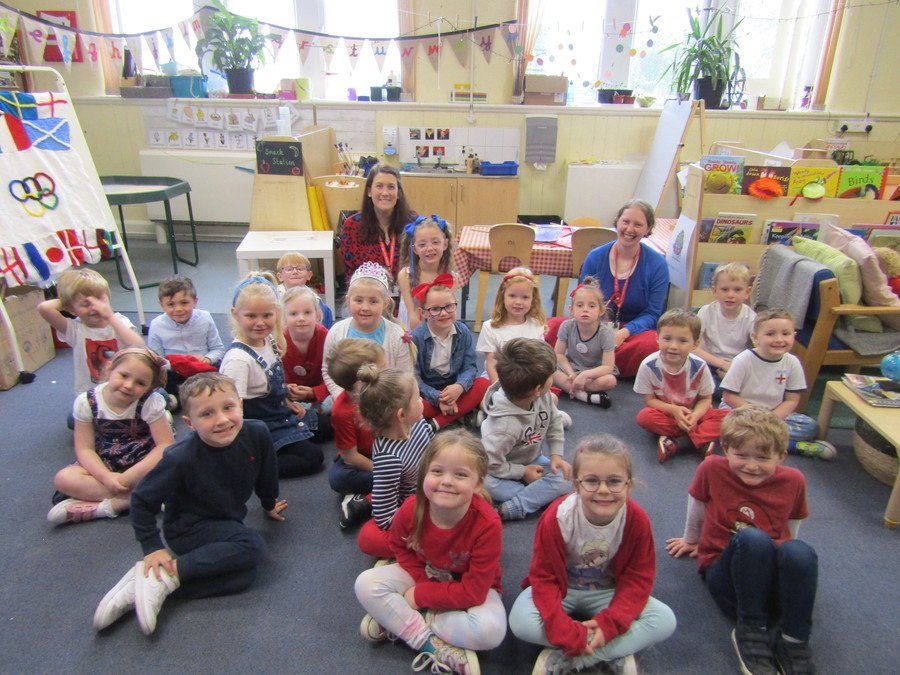 Reception children have spent the afternoon playing outside with their buddies in Year 6.
They've all had a lot of fun!
As part of their decade, Reception have been holding their own 2012 Olympics. The opening ceremony was yesterday and was full of dance and movement. The flags have been paraded and the games are now underway.
Lees Olympics 2012 - you are in for a real treat!
It's been very busy in Reception recently. With the arrival of an egg, the children have been thinking how to look after it and what might be inside!
They've also had great fun working together outside and made the most of the lovely weather ☀️
The winner of the Reception Reading at Home Challenge for last half term is Maggie, so a very big well done from the Reception Team and everyone at Lees! The children are encouraged to read as much as they can at home so it's always fantastic to see children receiving this prize.
Well done to Maggie - enjoy your prize!
We are excited to announce the winner of the Reception Reading at Home Challenge for the first half term of the year. The children are encouraged to read as much as they can at home.
Well done to Jessica - enjoy your prize!
The Wonders of Winter
As part of the whole school art project Reception and Nursery worked together - experimenting with a variety of materials and thinking about colour, design, texture and form.
We enjoyed the Art Day, loved getting our hands messy and are very proud of the work we have created!
Reception had a wonderful morning yesterday when they had 4 owls come to visit. As part of their topic learning all about nocturnal animals, they were able to hold one of the owls and felt the owls swoop above them. Thank you to SMJ Falconry of Oxenhope for bringing the owls to Lees and helping the children to learn lots of information.

Reception and Nursery enjoyed their visit from our local PSCO who came to talk all about Road Safety. They even learnt a new song - Twinkle Twinkle Traffic Lights!
Reception children have enjoyed their first lunch here at Lees with lots of help from their Year 6 Buddy.
Super Hero Day in Reception
A fantastic day for us all in Reception to bring our topic to a close.
Gardening and Growing in Reception
We all really enjoyed learning about planting and how things grow.
We planted our own sunflower and pumpkin seeds so we can watch them grow over time!
We have been very busy in the first few weeks at school...
Christmas party day in Reception
All the staff would like to wish you all a Merry Christmas and a Happy New Year!
Winter walk and exploring the snow and ice...
'Animals around the world'
We have all really enjoyed this topic, we had a visit from a penguin who stayed with us for a week! The children knew that penguins don't live in our country so they made boats for him to go back home... but then he went missing!
Reception visits and activities information