Welcome to Year 2! As a new teacher, I am super excited to work with these lovely children for my first year. We are going to have such a fun year with lots of amazing learning involved, including brand new topics that will broaden the children's knowledge and imagination. I am looking forward to showing everyone the amazing work this year's Year 2 is going to create. Miss Ward.
Here is some of the work Year 2 have been doing:
This term year 2 will be learning about plants using our school garden, our seedlings have already started to grow and we will be observing them continuing to grow as we come into spring.
Year 2 have been looking at the different countries in the UK, as well as their capital cities.
We have been looking at counties and which county we live in. Ask them...they should be able to tell you! From this we have looked into the human and physical features of Yorkshire such as Malham Cove and Leeds Bradford Airport.
We are going to be looking at London and why it is important. This will be a great introduction to the city for when we look at the Great Fire of London in the summer.
Medium Term Plans
Spring 2
This half-term, Year 2's topic is Plant Detectives. We are going to be investigating how plants grow and the plants we have in our local environment. We will be planting some seeds in our lovely garden and monitoring how they grow by recording our findings in our own plant diary.
Find out what else Year 2 are getting up to by looking at our medium term plan below.
Current Maths Topic - Lengths and Heights
A great start to the new term in Year 2!
As Mrs Startin is about to retire from Lees Primary School, she wanted to leave the children with a wonderful and memorable experience. They have all enjoyed time on the inflatable obstacle course which has been lots of fun! They've also enjoyed a cooling ice-pop which has been welcomed in the heat.
Mrs Startin and FoLees have shared the cost, so we would like to give them a very big thank you!
Queen's 70th Platinum Jubilee 2022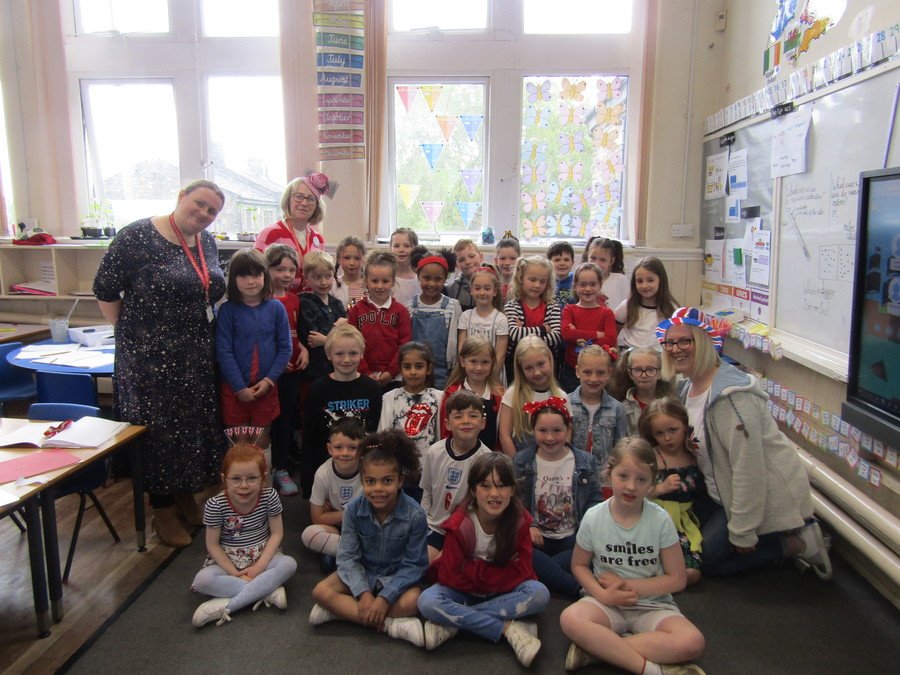 Two very important visitors to Lees this week!
A fantastic day today for Year 2 at Cartwright Hall in Bradford. A workshop in the Art Gallery all about David Hockney which fits in with their topic and a lot of fun in the park.
The children have been wonderful - lovely manners, positive behavior, engaged and enthusiastic. Well done Year 2 !
Year 2 have loved their World Book Day celebrations. They have been on a Scavenger Hunt looking for characters and situations in books from the library, creating and making items based on their favourite books and plenty of reading with each other.
We have been doing some amazing maths work with building and describing arrays in our work on multiplication too.
Well done - a fantastic week Year 2!
We have continued to work with clay this week to make our own sculptures of creatures that we might find in the Great Barrier Reef. We also read a super book called Somebody swallowed Stanley. It showed us what happens when plastic bags get into our oceans. We talked about how plastic does not rot away and how this is causing huge problems for our wildlife. Year 2 designed posters to help spread the message to Reduce, Reuse , Recycle.
As part of our topic Year 2 are now starting to look at Australia.
Today is Australia Day, so we have done lots of Australian activities and even had a BBQ!
The Wonders of Winter
As part of the whole school art project Year 2 have created art, experimenting with a range of techniques - adding texture, mixing media and layering. We have used tools to control the marks we have made.
We enjoyed the Art Day and are proud of the work we have created.
Year 2 had a trip to the moon - we looked at clips of how people walk on the moon and had a practice! We had to get our astronaut suits on - we pretended with hats and boots and so on. We drew huge rockets in the playground - we needed to think about how we would drive them and steer them. We landed on the moon and did our moon walking - we had moon snacks and then we made up lots of exciting moon adventures that we are going to write about in Topic work.
A great start to the new term Year 2 - fantastic maths!
Year 2 have been learning all about measurements - we have been weighing and comparing item from around the classroom.
We have spent quite a lot of our Topic time this week talking about David Hockney who is a very famous Yorkshire artist! We have looked at his style and then produced our own work based on his ideas. Most of these photos are based on his photography work but we have also produced our own pictures based on his works The Bigger Splash and Mulholland Drive- The Road to the studio.
The sunshine this week has taken Year 2 outside to enjoy their learning.
In Maths they have been working on position and movement and spent quite a bit of time this morning giving each other directions with forwards, backwards, left, right and then trying to give our friends directions to get them to different points on the grids.
In English they have been writing instructions for Willy the Wimp to follow on his
fitness regime. They have practiced saying their commands using imperative
verbs.
Year 2 are loving this terms topic - All About Yorkshire - and they have created wonderful posters full of facts and pictures of Sir Captain Tom Moore who has been a real inspiration to them.
Captain Tom 100 Challenge - April 2021
As part of their topic, Year 2 have taken on the Captain Tom Challenge. They challenged themselves to lots of different activities - from running around the playground to hula hooping! They have raised an amazing £1573.03 which is absolutely fantastic - Well done !!
They've only gone and topped it though - they got themselves on BBC Radio Leeds and BBC Look North!!
Year 2 have had a good day today launching a 'reet good Yorkshire topic, and enjoying a few snack from here in Yorkshire.
Year 2 learning all about sharing into 2 equal groups.
Well done Year 2 - you've completed your Conqueror Challenge and virtually climbed to the top of Mount Kilimanjaro!
Year 2 visits and activities information