As part of our Geography topic 'Marvellous Maps', we have learnt how to use a compass and read maps.
A Happy Eid Mubarak to all our family and friends who are celebrating this special occasion. We have made and sent our friends at Atlas Primary school these Eid cards.
We have learnt to draw in perspective and have drawn these pictures, based on David Hockney's Salt's Mill picture
In Maths, Year 3 have learnt about different measures (metres, centimetres and millimetres). We have measured the length of different objects in the classroom.
As part of our PE and RE, Ooan from Moov came into school and did some yoga with us. It was great fun.
This is what we will be learning about in Year three Monkeys up until Christmas.
Welcome to Year 3. The children have now settled into school and have got used to the new routines of Key Stage 2. We have lots of exciting things planned for this term including: a visit from a Viking warrior and an archaeological dig on the school field. We will also be 'Linking up' with Year 3 from Atlas primary school in Bradford.
Year 3 Viking archaeological dig
As part of our topic work, Year Three went into the school garden to see if we could find any Viking artefacts. We had great fun digging and we managed to find lots of different things. We are now going to record what we have found and write a report for the British Archaeological Society.
Year 3 Viking Longboats.
As part of our topic, Year 3 have been learning all about Viking Longboats. On Wednesday, we went into the playground and used our measuring skills to draw a life size Viking Longboat. We then acted out the different jobs the Vikings would do when travelling on the Longboats. These included: Chieftain, steersman, warriors, navigators and lookouts.
Harvest Festival
As part of our RE we have learnt about Harvest festival. We went into the school field and picked some apples. It was great fun and they tasted lovely.
A Viking Warrior at Lees!

As part of our topic - Anglo Saxons and Vikings, we had a surprise visitor! Weyland came to Lees to help bring our learning to life. We all had a fantastic day!
A great start to the new term in Year 3!
As Mrs Startin is about to retire from Lees Primary School, she wanted to leave the children with a wonderful and memorable experience. They have all enjoyed time on the inflatable obstacle course which has been lots of fun! They've also enjoyed a cooling ice-pop which has been welcomed in the heat.
Mrs Startin and FoLees have shared the cost, so we would like to give them a very big thank you!
Art day with Naseem Darbey
As part of the Linking Project, Year 3 had a visit from Keighley artist Naseem Darbey.
We had a fantastic day making these kites.
All About Mayans
Fantastic art work created by Year 3 as part of their topic - Mayans.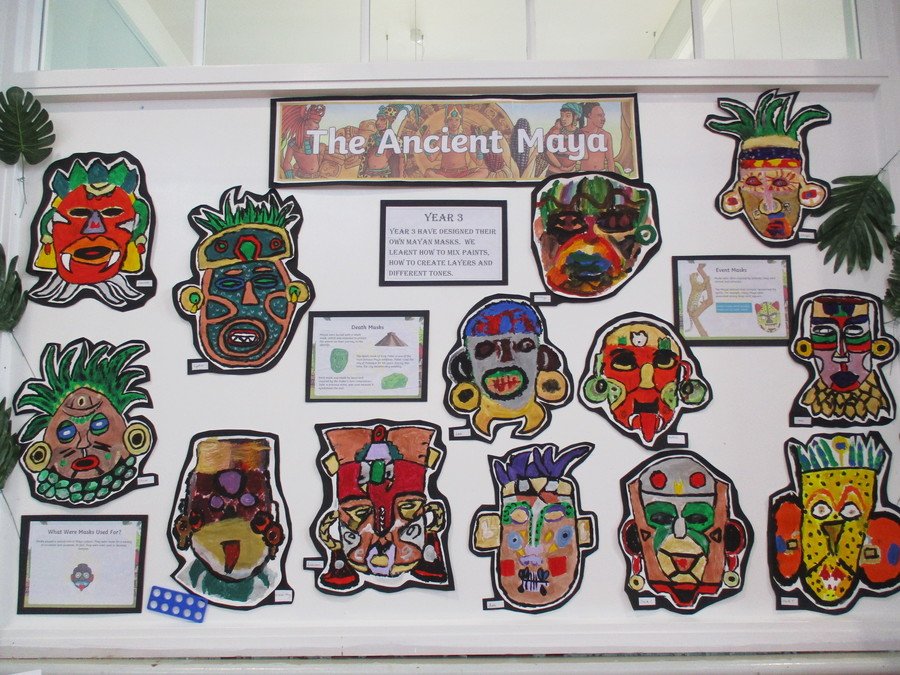 Queen's 70th Platinum Jubilee 2022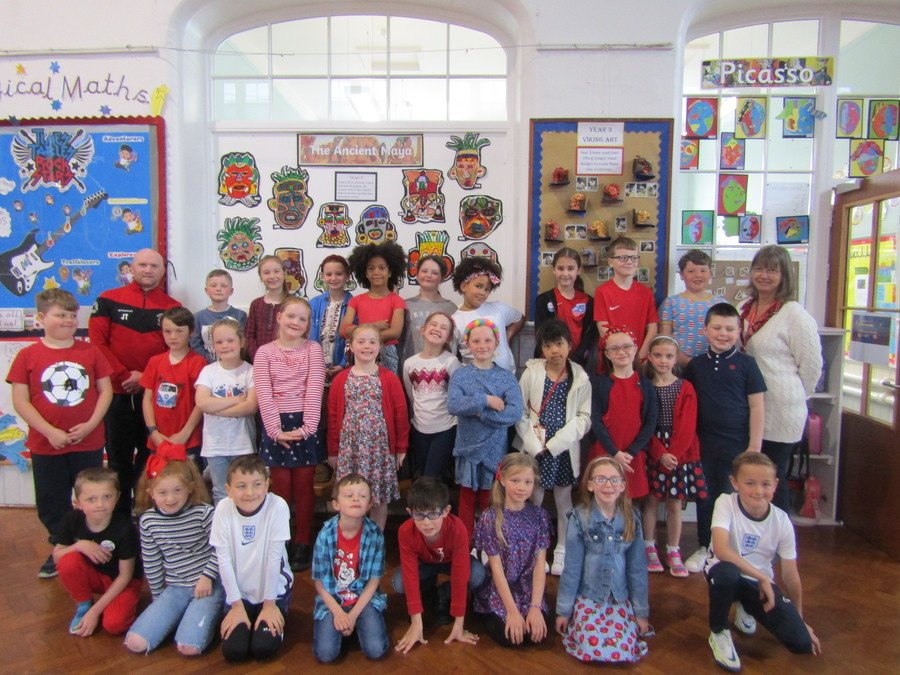 Year 3 enjoyed their visit to the Synagogue in Bradford yesterday.
Yesterday, Year 3 had a fantastic day making Pizzas. This was part of our Europe Topic. Can you guess which country we have learnt about?
We made our own pizza dough and then prepared the different toppings. We learnt about food hygiene and how to grate / cut things up safely.
Jordan from Soccer Hub came into Year Three on Tuesday to talk to us about reaching our goals and dreams. He told us about having a positive attitude toward life and what we need to do to reach our goals. He explained that we can start doing things now to make our dream come true.
We made these posters answering the following questions:
I am I good at.......
I enjoy doing..........
I love.......
My favourite food....
My hero is.............. because
My dream / goal..............................
When I grow up I want to be……………………….
What do I need to do to achieve my goal?
What can I start to do to achieve my goal?
How I will feel if I achieve my goal?
Thanks Jordan, the children loved you coming into class and speaking to them.
Last Friday, as part of our Modern Day Europe topic we made French Butter Cookies (Sable Breton). They were delicious.
The Wonders of Winter
As part of the whole school art project we created art to show our awareness of 3D and perspective. We have developed our skills using a variety of media and intricate patterns.
We enjoyed the Art Day and are proud of the work we have created.
As part of our topic, we have made Saxon bread in class for us all to share. It was very tasty!
Pedestrian Safety
Well done to Year 3 who were fantastic during the Pedestrian Training today. Great listening, following instructions, and lovely manners - a real credit to Lees!
As promised, Year 3 have now finished their Dragon Heads and they are looking great. Well done Year 3!
Yesterday afternoon Year Three, braved the cold and wet weather to do an archaeological dig in the school field. Dr Douglas Bones from the archaeological society had personally written to us, saying that there might be some Viking relics buried in our school field. He sent us a map where he thought the relics might be.
Mr Townsend and Miss Revell were a bit sceptical (Vikings living in Lees?) but to everyone's surprise we weren't disappointed! We unearthed lots of treasure, including: coins, jewellery, pots, jugs, horns and some carved figures.
Today we have been recording our finds and doing some research on them. We are going to write a report for Dr Bones. Here's what the children have discovered.
"We have found out that the carved figures were used in Viking board games." Jack
"On one piece of jewellery has seashells in it. We know the Vikings traded in seashells." Addison
"The coins were like the ones Wayland our Viking visitor told us about. They had a cross in the middle so that they could chop them in half or quarters." Evelyn
Well done Year Three. Mr Townsend and Miss Revell are very proud of you.
As part of their topic, Year 3 have created some fantastic Viking Dragon Heads from clay. We will keep you updated once they have been painted. Well done Year 3!
Year 3 have had an amazing morning learning all about this term's new topic - The Vikings.
They had a special visitor in class - Wey Land the Viking!. He has told them all about the daily life of a viking and how they were so successful when invading different countries.
Year 3 have worked in small groups to create timelines to support their new History topic.
Year 3 visits and activities information