Welcome to our NEW Year 3 Class! We all hope that you have had a wonderful holiday and that you are now ready to enter Key Stage 2.
As part of their topic, Year 3 have created some fantastic Viking Dragon Heads from clay. We will keep you updated once they have been painted. Well done Year 3!
Year 3 have had an amazing morning learning all about this term's new topic - The Vikings.
They had a special visitor in class - Wey Land the Viking!. He has told them all about the daily life of a viking and how they were so successful when invading different countries.
September 2021
A great start to the new year Year 3 - maths and reading.
Year 3 have worked in small groups to create timelines to support their new History topic.
In Maths Year 3 have been learning all about 3D shapes - they have made their own to help with their understanding.
Year 3 have completed their Mayan Temples and they are fantastic. Well done Year 3 !
Pedestrian Training for Year 3 - vital skills and information to keep the children safe when crossing the road.
Year 3 have built Mayan Temples as part of their Topic this term - we look forward to the end results!
As part of their Science topic - Light and Dark. Year 3 have worked together as teams to make periscopes.
Amazing Art work by Year 3! You've all worked incredibly hard and you're all so creative.
Well done Ivy-Leigh, Billie and Pearl for your Mayan Art painted on bark - beautiful work.
As part of the Bradford Schools Linking Project, Year 3 have linked with Atlas Primary School in Manningham, Bradford. They have made a banner to wish them all a Happy Eid Mubarak!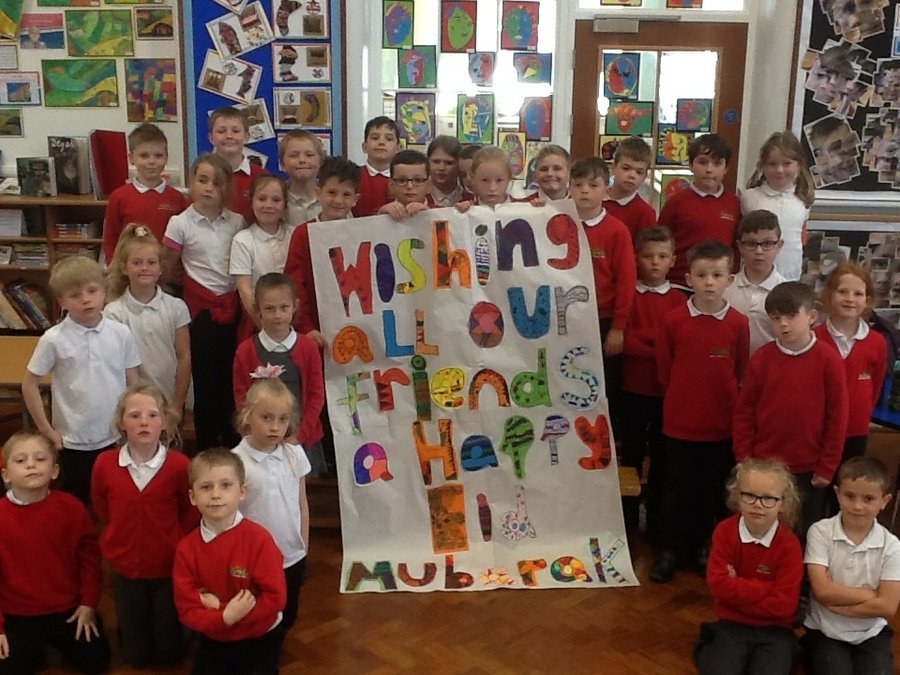 Year 3 have been working hard to make the front of our school look amazing - tidying up the planters and planting new plants. Thank you Year 3 !
As part of their topic, Year 3 are working on creating some Mayan art - finding and preparing bark and painting Mayan designs. Everyone is looking forward to seeing the end results !
Year 3 have taken their learning outside in the sunshine. They have been working on their Mayans Topic. They've been plotting cities and countries on grids using co-ordinates.
Well done Year 3 - you've virtually completed the Inca Trail as part of the Conqueror Challenge.
January 2021
A very snowy day for some of our Year 3 children.
Year 3 have been learning all about Anglo Saxon Gods.
We've had a fun day in Year 3 today all dressed up for Halloween.
Year 3 visits and activities information