School News & Information
Our visit with West Yorkshire Fire and Rescue
This week we had an amazing visit from West Yorkshire Fire and Rescue who gave our children a briefing on fire safety. Some of our children even got a tour of the fire engine and equipment. A fabulous time was had by all!
Panto fun here at Lees
We all had a great afternoon when Aladdin and his friends came to Lees. Well done to our children, from across school, who took part in a workshop and then got to perform in the Panto! Some real future stars!!
Great fun for Children in Need while raising lots of funds for this fantastic charity!
The Pathfinders enjoyed an ice-cream treat today for gaining the most House Points for the summer term. Well done Pathfinders!
We have said goodbye today to Mrs Broadbent who is retiring from Lees. She has been an amazing teacher and friend and we will all miss her.
Make sure you have a wonderful time Mrs Broadbent!
We are very sad to see Mrs Startin leave Lees Primary School. She has ben here for 25 years and has taught many children - she will be missed by us all!
Enjoy your next adventure Mrs Startin!
Sports Day at Lees - July 2022
A fantastic day here at Lees. The sun was shining and the children have enjoyed all the races. Lots of perseverance, determination and encouragement - as well as plenty of smiles!
Nursery, Reception, Year 1 and Year 2
Queen's 70th Platinum Jubilee 2022
A fantastic start to our Jubilee Celebrations here at Lees.
Each class have focused on a decade from the past 70 Glorious Years. Great outfits - from fashion to events, films to music, the children and adults look fantastic!
A great whole school assembly today to celebrate the Queen's Platinum Jubilee. It was lovely to welcome Nursery to the assembly, who then sang their lovely song to honour the queen - check out Nursery's class page for the video.
Wonderful singing of the National Anthem - Well done everyone!
The rain may have got the better of us but it certainly didn't stop us having a fantastic Jubilee Picnic!
The School Council are running a competition throughout school to see which class can grow the tallest sunflower.
The children planted the seeds a couple of weeks ago and now they have all began to grow!
School Council are measuring them each Friday to see which class is in the lead.
We will keep you posted on updates as the sunflowers grow.
The Easter Bunny certainly had some fun at Lees on the last day of term.
Thank you to FoLees who funded eggs for everyone. The children loved writing labels of thanks to all the adults throughout school and the Egg Exchange went down very well.
Have a lovey Easter!
The winner of the House Cup for the Spring Term is...... PATHFINDERS.
Well done to everyone!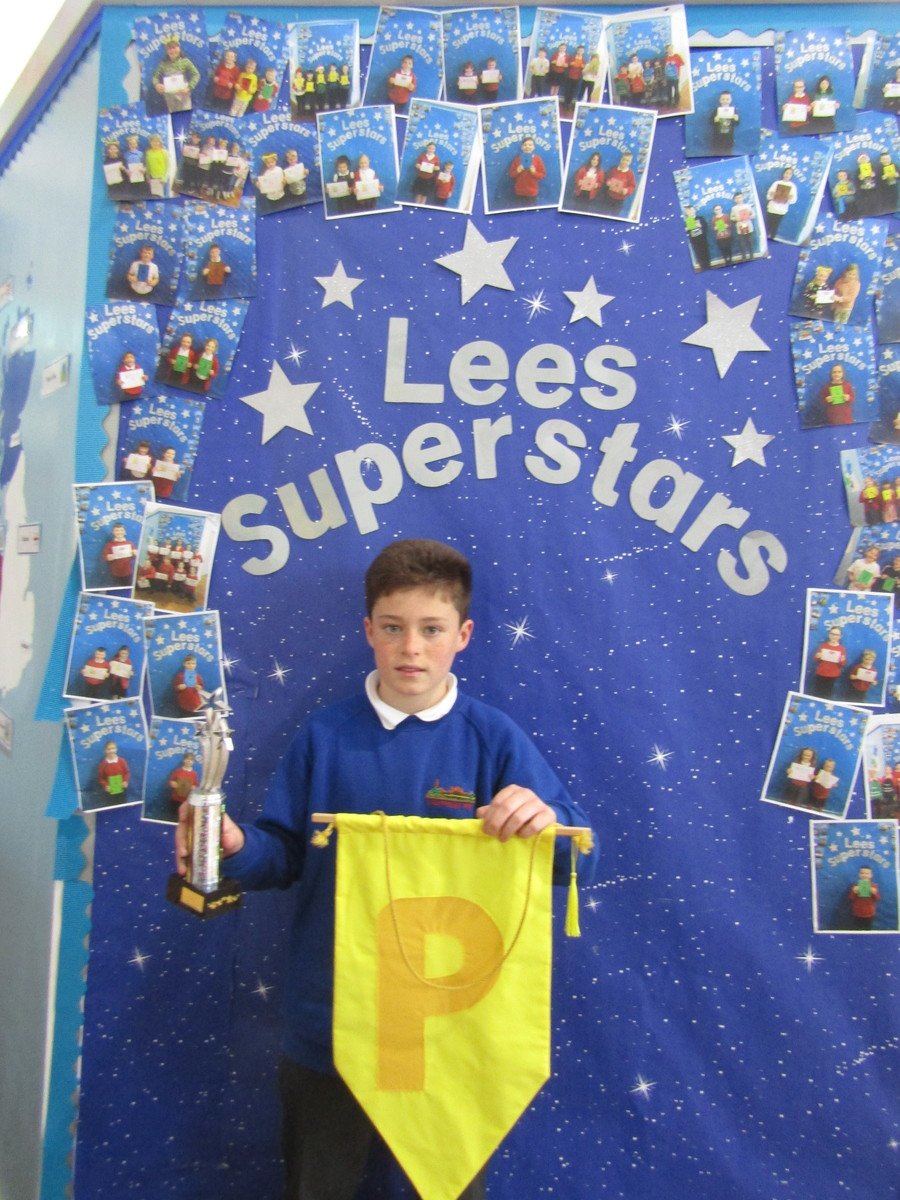 Well done to all our Cross Country runners who have taken part over the last school year. We are very proud of all your achievements!
World Book Day 2022
A fantastic day here at Lees for World Book Day 2022.
Rainbow Non Uniform Day
It was lovely to see a rainbow of colours here at Lees today. Thank you for all the donations - FoLees will collect everything and create Rainbow Hampers which will be raffled to raise funds for our school.
Thank you for all your support!
The Wonders of Winter
The whole school has come together to create art work for The Wonders of Winter. We have used various techniques, tools and media. The work is now up on display around school and looks amazing.
What a fantastic and very exciting morning here at Lees! A special visitor came with presents and chocolate for each class. We also had 2 rather naughty elves turn up to cause lots of mayhem - lovely to see Elf Judson!
Have a wonderful Christmas and we will see you all in the New Year
Thank you for all your support at yesterday's Singing Concert. It was lovely to see everyone, the children were fantastic and we raised an amazing £213.66 from the drinks and cakes stall!
This will be shared between Save the Children and Lees.
The children have had lots of fun at their Christmas parties!
Reception, Year 1 and Year 2
Christmas Jumper Day for Save the Children.
The children all had a fantastic day wearing their Christmas jumpers, enjoying a very tasty Christmas lunch and raising lots for Save the Children. Thank you for all your support!
Cross Country Superstars
Well done to our fantastic runners in the Keighley & Craven Cross Country Event at Lund Park on 30th November 2021.
Lots of perseverance and determination shown by all - we are super proud of you!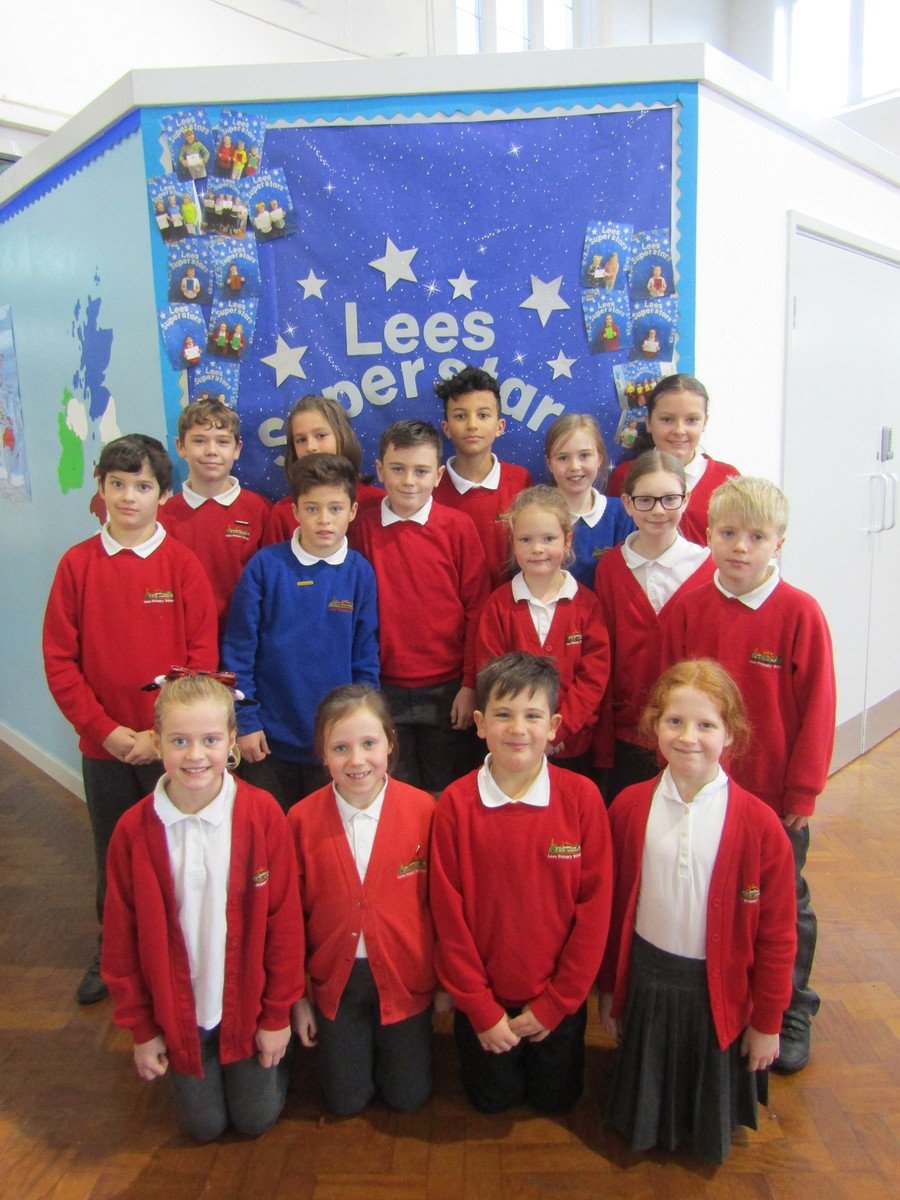 Children in Need
We've had a fantastic day here at Lees today for Children in Need!
Reading Champions
We are excited to get our Reading Champions reading scheme back up and running. Each child will take it in turns to bring their class bag home to enjoy the books. Please send through any photos of your child reading their books so we can create a display in school to show how much we all love to read here at Lees.