School News & Information
We are registered for the Good To Grow scheme at Morrisons so please help us collect vouchers which will enable us to purchase gardening equipment for our school.
Follow the instructions below to get the app and make sure you select Lees Primary School.
Thank you for all your support.


It looks like a good crop here at Lees! After School Club prepared the potatoes back in March by chitting them, then buried them and have now harvested a fantastic hoard! The children are amazed and will be enjoying roasties tonight after school.
Chitting simply means encouraging the seed potatoes to sprout before planting.
Making the most of the September sunshine!
Roles throughout school have been given to the Year 6 children. They have taken on the responsibility and we are confident they will do a fantastic job!
Mrs Treece and Mrs Kissack's Retirement - July 2021
Mrs Treece and Mrs Kissack are both retiring after many years at Lees. They will really be missed by everyone.
We have made sure they feel like true Queens for the day and we wish them all the very best - remember ladies, you are both very welcome to return as volunteers!
Sports Day at Lees Primary School - July 2021
The children have all had an amazing time at this year's Sports Day. They have been held within each year group - Nursery, Reception, Year 1 & 2, Year 3 & 4 and Year 5 & 6. As we couldn't have one last year we have made the most of this year and ensured the children have had plenty of fun !
July 2021
It's coming home. It's coming home. Football's coming home !
We did it - England are in the Euro Finals.
It's all very exciting here at Lees - good luck for Sunday.
June 2021
Eva from Year 2 has decided to donate her lovely hair to The Little Princess Trust who support children with hair loss. It's a very kind and brave gesture - well done Eva, we are incredibly proud of you!
Please see our Facebook page for the link to donate if you can, Eva is raising funds for It's Worth Talking About and the Special Care Baby Unit at Airedale Hospital. Well done Eva!
June 2021
Last night, 5 of our pupils were chosen to represent Bingley Juniors to play against an academy team from Manchester City. Mr Townsend went to watch them and was very impressed. Well done!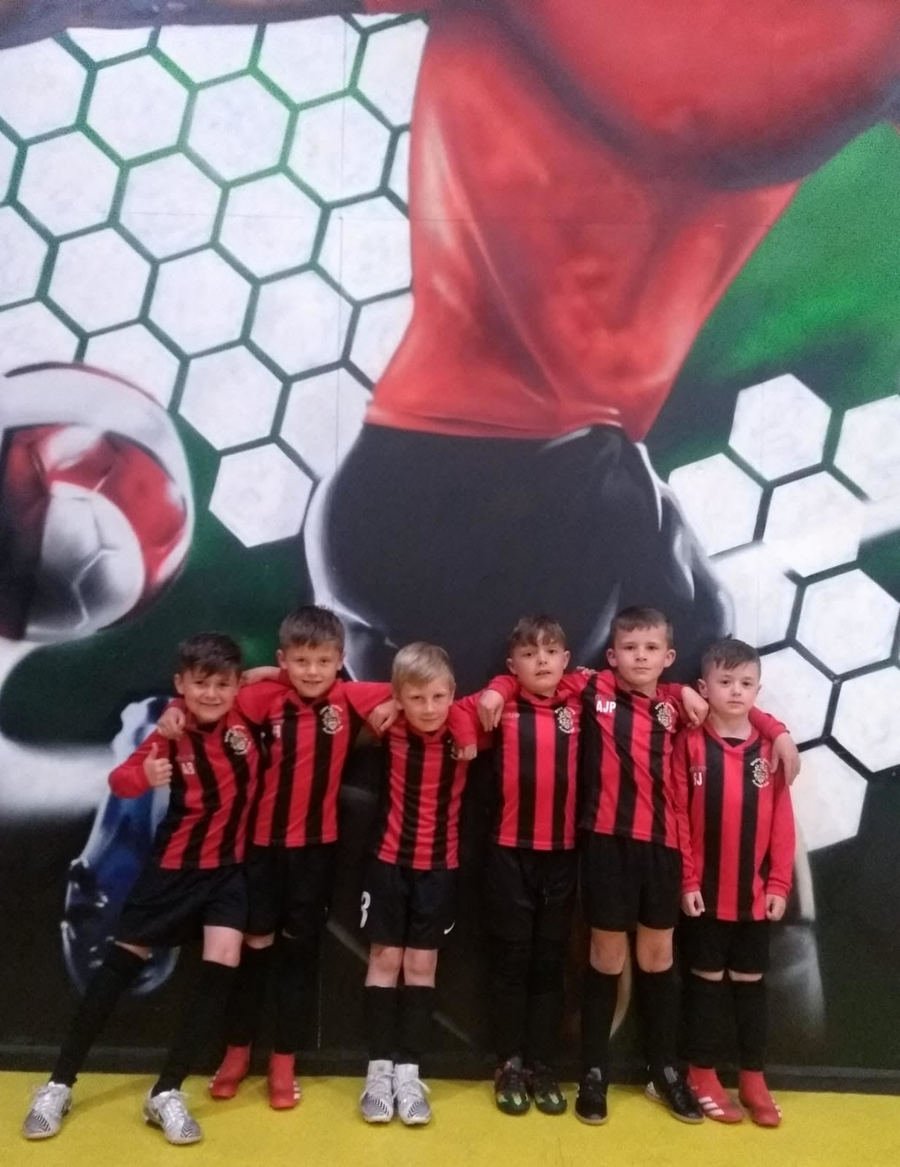 May 2021
We are very proud of Darcey from Year 2. She has kindly decided to donate her beautiful hair to The Little Princess Trust to help children who have suffered from hair loss. Darcey also has a Justgiving page set up as she's raising for Manorlands after the loss of her Granddad - already over £600 has been donated! Well done Darcey - this is fantastic!
If you would like to make a donation please see our Facebook page for the link - thank you.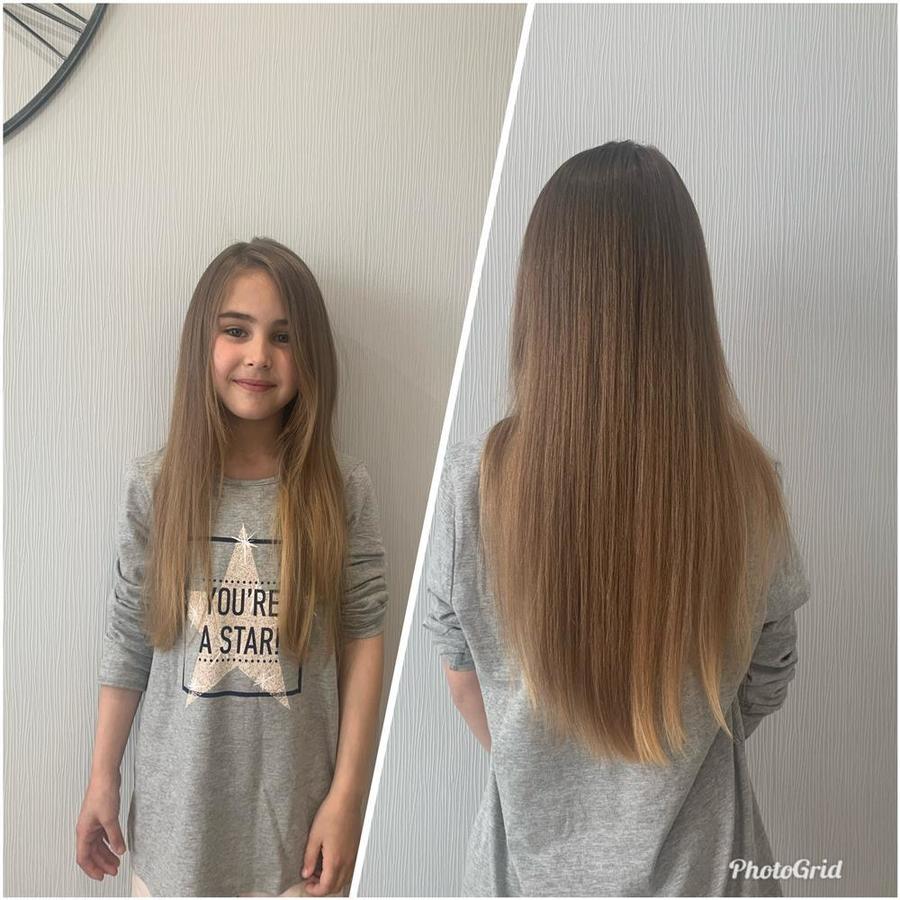 May 2021
As part of the Bradford Schools Linking Project, Year 3 have linked up with Atlas Primary School in Manningham. They have made a banner to wish them all a Happy Eid Mubarak!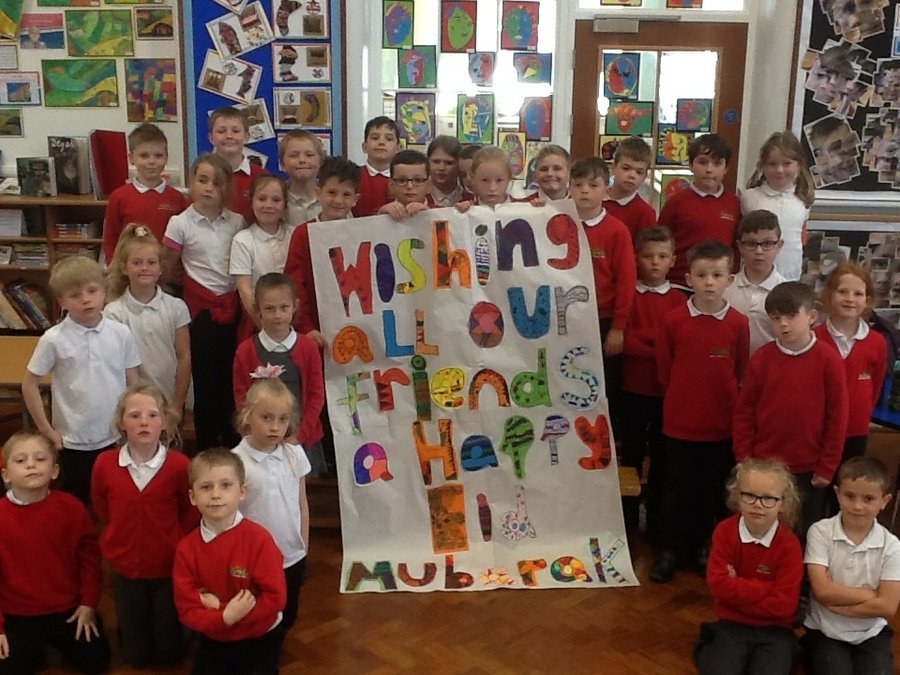 Captain Tom 100 Challenge - April 2021
As part of their topic, Year 2 have taken on the Captain Tom Challenge. They challenged themselves to lots of different activities - from running around the playground to hula hooping! They have raised an amazing £1573.03 which is absolutely fantastic - Well done !!
They've only gone and topped it though - they got themselves on BBC Radio Leeds and BBC Look North!!
To see both interviews from the lunchtime and evening news, you will need to go onto our school Facebook page. Here are some pictures taken on the day.
Easter 2021
We all had fun at school when the Easter Bunny arrived - searching for eggs and everyone receiving a real treat. Thank you FoLees for funding this special event.
World Book Day - March 2021
Enjoy our collection of reading photos and book characters - but can you work out who the staff are ?
January 2021
Some of our Year 3 and Year 1 children enjoying the recent snow
Lees Primary School Nativity 2020
The Staff and Children wish you all a Happy Christmas and a Peaceful New Year
A very special visitor came to school today - along with two very mischievous elves !!
A real Christmassy treat from Year 4
Christmas Dates & Events at Lees
December 2020
Save the Children Christmas Jumper Day
Friday 11th December 2020
The children and staff all had a lovely day - some great jumpers and dresses. Thank you for all your support - we have raised a fantastic amount of £202. Well done everyone !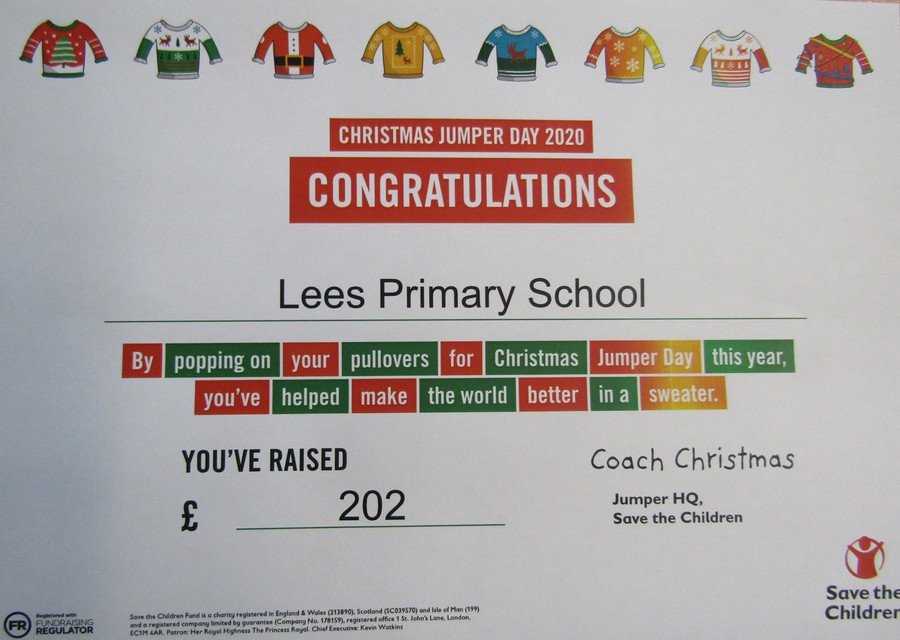 Children in Need - Fundraising Day
Friday 13th November 2020
A huge THANK YOU to everyone who donated via our Just Giving Page to this appeal. A total of £391.00 was donated but with the added gift aid the total raised was
Salvation Army Christmas Present Appeal - November 2020
As we are all very aware, this Christmas will be difficult for many families. As such, we have decided to support the above appeal which will help children and young people in our community. Throughout November, we shall place a bin at the exit to the playground for any donations of gifts you wish to make.
Below are details taken from the Salvation website with regard to the types of gifts that are suitable.
Thank you once again for your generosity in the past, we are very grateful.
Suggested Gift List for Children and Young People
We believe every child deserves a new gift at Christmas so we are unable to take used or second hand items for the Christmas Present Appeal.
0-3 years: dolls, teddy bears, cot mobiles, baby clothes, bath toys, CDs of suitable music and nursery rhymes, puzzles
3-5: dolls and action figures, cars, lorries, DVDs and CDs (music and nursery rhymes), colouring sets, pencils, crayons, books, puzzles
5-9: educational games & toys, stationery (colouring sets, pencils, crayons, school sets), CDs & family friendly DVDs, books, puzzles, wordsearch, crosswords
9-12: games and toys, stationery, DVDs, books, t-shirts, hair accessories, gloves, scarves, hats
13-16: books, make-up and toiletries (please try to ensure non-allergic ingredients if possible), gloves, scarves, hats, t-shirts, hair accessories and gift vouchers
Over the years, millions of children and young people have benefited from gifts donated to The Salvation Army.
By giving a gift to our Christmas Present Appeal you can make a real difference in someone's life at Christmas.
Remembrance Day 2020
The British Legion would like to thank you for your support, together you have raised £116.18 for the appeal.
October 2020
Our school is looking amazing thanks to the incredible hard work of all our children and staff. As parents, carers and families cannot come into school at the moment due to Covid restrictions we've brought our school to you. Please enjoy the pictures.